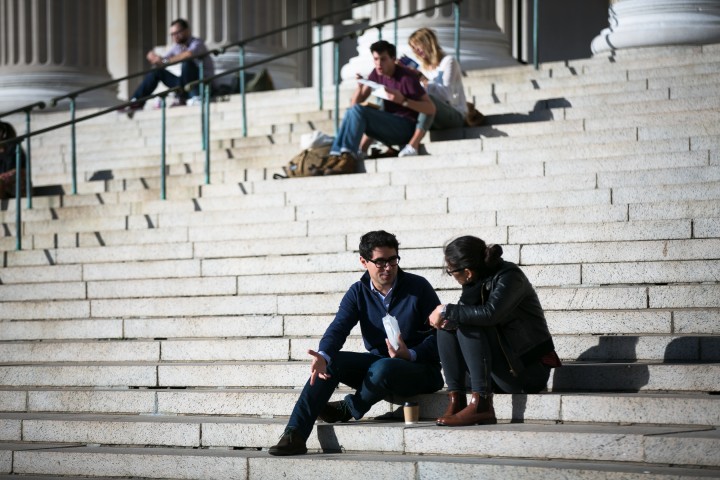 The new Odyssey Mentoring Program offers young alumni — those up to 10 years out of the College — the chance to get help and support from older alumni while sharing insights with current students. Make the most of your College community — 50,000 strong — on your own schedule and terms.
You can message and interact with alumni to ask for industry tips and insights on post-college transitions, plus expand your professional network.
Likewise, you might have advice or guidance for a current student who is still navigating their College journey. Your input can enhance a student's experience  — for example, when you help them think about their major, recommend the best classes to take or advise them on graduate schools.
Benefits of the Odyssey Mentoring Program
Connect with fellow College alumni — people who took the Core Curriculum, know what it's like to "grow up" in New York City and value critical inquiry and independent thinking.

Participate at your convenience based on the time commitment that works for you. Interact live or virtually, and maybe even meet a mentor you can really get to know for the long term!

Expand your network with those who can help you succeed and can assist with accelerating your professional development, thanks to their tips and insights.

Support current students by giving them the advice you wish you had on things as simple as classes they shouldn't miss, how to balance classwork with personal time, exploring the city and much more!

Establish a sounding board of alumni advisers for personal or professional issues you might navigate.

Learn about industries from seasoned professionals and/or receive guidance as you transition to a new career.
Ready to join?
Fill out a profile here.
"Guiding current students as they make important career decisions is deeply impactful and rewarding. During my junior year, my mentor let me shadow him for a week and introduced me to the world of tech startups.

Last summer, I did the same by having a current student shadow me. He was excited by what we were working on and decided to join us for his summer internship."
— Jason Feng CC'14